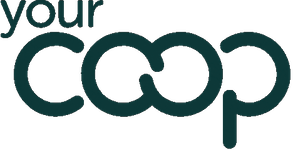 Your Co-op is a family of businesses operated by the Midcounties Co-operative. The Midcounties Co-operative is one of the largest independent UK co-ops with over 640,000 members and 7,300 colleagues. Following the model created by the UK's first socially responsible businesses, co-ops are developed to build stronger, more effective communities. People have always been the heart of co-ops, and it is our mission to enhance lives as we work towards a fairer, more sustainable, ethical future.
Our family of businesses offers Food, Travel, Childcare, Utilities, and Post Offices. The Society trades nationally through some of its businesses, including Travel, Utilities and Childcare.
Your Co-op Food has it's heartland in Oxfordshire, Gloucestershire, Buckinghamshire, Shropshire, Staffordshire, the West Midlands, Wiltshire and Worcestershire. In our Your Co-op Food stores we are tackling single use plastics and have already replaced all single use plastic shopping bags with compostable bags, saving 8 million plastic bags per year. Our Co-op branded food packaging is all widely recyclable, and we take pride in providing our members with access to fair trade and locally sourced produce.
Our Utilities businesses offer our members climate-positive broadband and mobile products across the UK, to help them reduce their household carbon footprint, and we work with local renewable energy groups up and down the country to provide the UK's only 100% Community Generated renewable energy tariff, sold in partnership with Octopus.
In our Childcare business, our Green Flag Eco-School accredited nurseries educate future generations about sustainability and the environment, and our Travel business is actively working towards the launch of carbon neutral holiday packages.
"Sustainability has always been at the heart of the Co-operative business model. Our business is actively reducing our greenhouse gas emissions, and we are already making significant inroads to our emissions footprint.

We know our members care deeply about our environment and want to support the changes we all need to make, fully embracing social responsibility. We previously launched our 1Change programme encouraging members to make one change which would reduce their carbon footprints.

In 2023 we are taking our 1Change campaign to the next level bringing it into everything that we do, and we'll be using tree-planting to celebrate each positive step our members take. The Million Trees pledge gives us a clear goal to work towards together, supporting Ecologi and the global community projects to benefit the environment through accredited, global community projects."